For a gamer who's a fan of The Sims 4, you would know that expansion packs are a way for a player to put more flavour to the gameplay. It gives you new worlds, aspirations, outfits, build items, food and many more. EA Games has created nine packs since 2014, including the new pack that was released this June— The Sims 4 Eco Lifestyle. This has been the most number of expansion packs for any The Sims iteration.
It's difficult to determine which expansion pack is the best. It can be safe to say that some packs are better than the others. It's still great to get all of the packs, but you might want to start with these four:
1. Discover University
If you have a burning desire to go back to school or at least experience the carefree life of being back in school, Discover University is for you. In this pack, you will allow your sim to enrol in a university with a degree of your liking. You will lead your sim to live in a dorm room, attend lectures and do homework. You can also meet friends, mingle in parties every night and explore your campus with the new bike feature.
PROS:
• Freedom in doing homework (or not) and facing the consequences
• Travel with a bike
• Level up skills through a variety of sports sessions and lectures
• Roommate feature
CONS:
• Classes and schoolwork can be overwhelming
• Could be improved with more degrees and classes
2. Island Living
Live the beach life with Island Living. With this pack, you can have the luxury of building your house on the beach. You can relax and sunbathe on your patios. You can experience sailing and riding the jetski to visit your sim friends on different islands. You can also lead your sim to protect the island of Sulani from waste.
PROS:
• You can turn into a mermaid
• Festivals all over the island
• Awesome nature-themed build items
• New food items and lot traits
• Swim and relax on the beach
CONS:
• Not much of career options
3. Seasons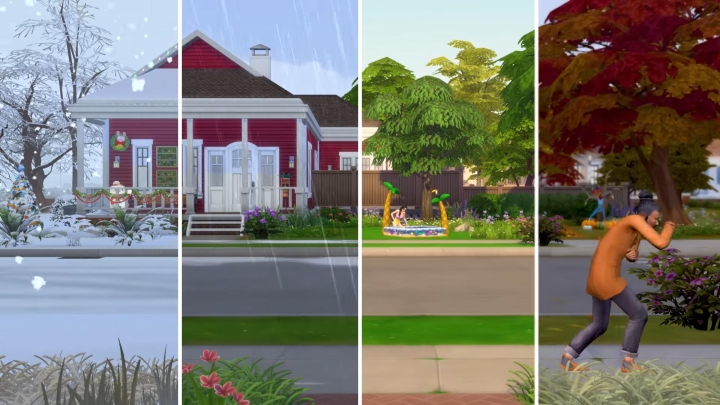 The Seasons pack will make your gameplay a little bit more real. It allows your sim to experience all of the four seasons, which affect your sim's day-to-day activities. It also provides holidays that you can celebrate like Christmas, Hanukkah, Halloween, New Year, TV Premieres, and many more. It also includes some build items you can use to prepare for your holidays and some sim actions that fit for that specific holiday.
PRO:
• Create and celebrate holidays
• Seasonal activities (ice skating, roller skating, building a snowman)
• Gardening career and seasonal gardening
• Weather-specific clothing
CONS:
• Becomes repetitive and a bit boring
• Lack of career paths
4. Cats and Dogs
Who does not want to bring their furry pets in The Sims? With The Sims Cats and Dogs, you can create your pets and customise them in any way you want. You can choose the breed of your pet and paint their specific markings. You can bring them to the vet if they get sick, or you can build a veterinary clinic and save other people's pets, as well. ;
PROS:
• A wide variety of breeds to choose from
• Meet and mingle with your friend's pets
• Career path as a veterinarian
CONS
• Limited build and create-a-sim content
The Sims 4 has so much to offer. This article isn't enough to cover its greatness. However, this may give you an idea of what you may want to see in your game.